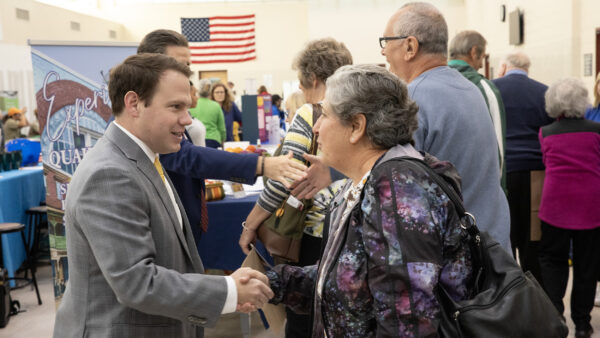 PERKAISE – Senior citizens from across the 16th Senatorial District attended Sen. Jarrett Coleman's (R-16) senior expo on Thursday, Oct. 12, at 9 a.m. at Upper Bucks County Technical School (UBCTS).
"We had a great turnout for the senior expo and were able to help a lot of local residents," Coleman said. "We had a broad array of exhibitors here to provide older Pennsylvanians with information about local programs and services to meet their needs."
The senior expo featured exhibitors representing more than 30 organizations, including sate agencies, local nonprofits, educational institutions, health care providers, law enforcement, county government and mental health professionals.
Attendees met with exhibitors to learn about programs, services and products available to local senior citizens.
Several free health screenings were offered. St. Luke's Upper Bucks Campus provided flu shots. Grand View Hospital performed an interactive cancer demonstration. LifeQuest offered blood pressure checks. Good Shepherd Physical Therapy demonstrated a Kinoteck physical therapy machine. UBCTS Health Care Careers provided home safety and fall prevention information. UBCTS Exercise Science and Sports Technology demonstrated tips and tricks to relieve pain.
Bedminster Police Community Relations conducted a scam seminar.
The expo included a panel discussion featuring Coleman, Bedminster Police Chief Matthew Phelan and Director of Human Services for Bucks County Rachael Neff. The panel was hosted by Bedminster Police Community Relations Director Laurie Hepler.
"We are blessed in our area to have so many organizations committed to serving our local population of older residents," Coleman said. "I appreciate everyone who joined us at the senior expo and especially want to thank the exhibitors who provided valuable information and resources."
Residents who want to learn more about Coleman can visit his website at www.SenatorColeman.com, follow him on Facebook at www.Facebook.com/SenatorJarrettColeman and sign up for email newsletters at www.SenatorColeman.com/eNewsletters.
CONTACT: Robert Arena