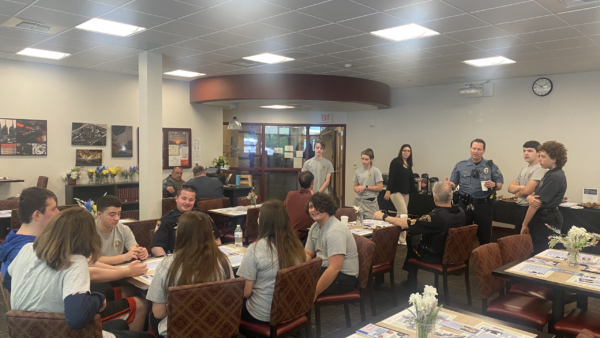 QUAKERTOWN – State Sen. Jarrett Coleman's (R-16) office today hosted a "Coffee with a Cop" event at Upper Bucks County Technical School, where students and local residents met with police officers from departments throughout the 16th Senatorial District.
"Local law enforcement officers had a fantastic idea and I'm grateful that they invited our office to be a part of it. Coffee with a Cop gives members of the community an opportunity to engage in a conversation," Coleman said. "When people sit down at a table together and discuss issues, they often can find common ground."
The "Coffee with a Cop" event helps break down the barriers between police officers and the citizens they serve. By meeting in a community setting participants ask questions, voice concerns and get to know the officers from their neighborhood in a more relaxed atmosphere.
Police officers from Bedminster Township, Dublin Borough, Tinicum Township, Hilltown Township, Perkasie Borough, Pennridge Regional Police, Quakertown Borough and Richland Township participated in the event.
Law enforcement students attending Upper Bucks County Technical School attended the event to meet and talk with local law enforcement officers.
The event was catered by the Upper Bucks County Technical School culinary faculty and students.
Residents who want to learn more about Coleman can visit his website at www.SenatorColeman.com, follow him on Facebook at www.Facebook.com/SenatorJarrettColeman and sign up for email newsletters at www.SenatorColeman.com/eNewsletters.
CONTACT: Robert Arena 484-861-4962