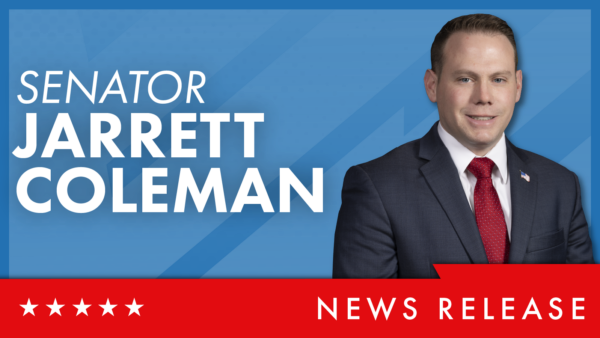 HARRISBURG – The 2023-24 spending plan proposed by Gov. Josh Shapiro marks an encouraging start to the budget process, but contains some significant areas of concern, state Sen. Jarrett Coleman (R-16) said today.
The $45.8 billion plan seeks to boost state spending by more than $1.3 billion above the current year's budget and would almost completely deplete the state's Rainy Day Fund by 2028.
"The Rainy Day Fund is Pennsylvania's savings account. It's money that's set aside for emergencies. Families don't plan to spend their emergency money to pay their regular expenses, and neither should government. This money is set aside to shield taxpayers from calls for tax hikes if the economy goes into recession. A depleted fund also raises the cost of government borrowing that's paid by taxpayers. It's irresponsible to spend down the fund for short-term gain," Coleman said.
Gov. Shapiro made no mention of his plans for the Regional Greenhouse Gas Initiative (RGGI) but his budget appears to assume Pennsylvania's continued participation in the carbon tax scheme to the tune of nearly $670 million in new energy taxes.
"As a candidate, Gov. Shapiro said he was concerned about RGGI but that's not reflected in this budget proposal," Coleman said. "The legislature didn't implement RGGI and can't stop it. Gov. Shapiro's lack of action means higher energy bills for my constituents, their employers and everyone else in Pennsylvania."
The governor also did not follow through on his promise to fund Lifeline Scholarships, a key provision to help provide families with greater options to meet their educational needs. Nor did he include any additional funding for EITC programs that help students who are struggling in their current learning environment.
"This is a missed opportunity for the new governor to demonstrate he is charting a path distinct from his predecessor, who also opposed giving parents a choice when it comes to spending their school tax dollars," Coleman said. "Trapping children in failing schools while continuing to throw money at the problem is just more of a long-outdated game plan."
The Senate Appropriations Committee will begin a series of public hearings on the budget plan on March 20.
CONTACT: Gary Day