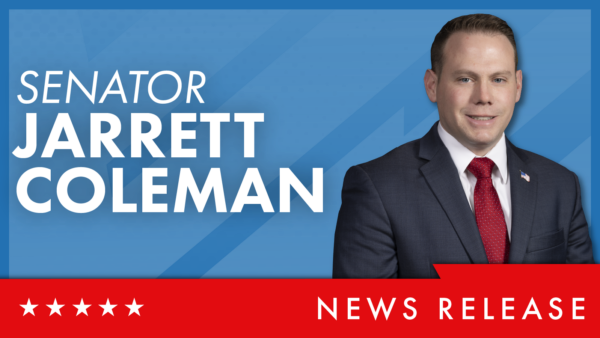 HARRISBURG – Sen. Jarrett Coleman (R-16) today was appointed chairman of the Senate Intergovernmental Operations Committee, the panel responsible for reviewing proposals to restructure and streamline state government.
"My goal in coming to Harrisburg is to increase the efficiency, transparency and accountability of state government, and leading the Senate Intergovernmental Operations Committee will help me do that," Coleman said.
Senate President Pro Tempore Kim Ward (R-39) also appointed Coleman to serve on five other Senate committees in the 2023-24 legislative session. The committees provide legislative oversight and help shape the language in bills that fall under their areas of responsibility.
The Communications and Technology Committee oversees legislative efforts to improve access to high-speed internet, ensure personal information held by state and local governments is secured, and considers state information technology improvements.
The Consumer Protection and Professional Licensure Committee helps ensure public health and safety by handling all legislation, rules and regulations on consumer affairs, regulated public utility services and the 29 professional and occupational licensing boards in Pennsylvania.
The Education Committee is responsible for considering issues and legislation related to Pennsylvania's education system, including school safety, funding issues and post-secondary opportunities for students.
The Local Government Committee is responsible for reviewing legislation that affects Pennsylvania's more than 2,500 county and municipal government entities. The committee also has oversight of the Pennsylvania Municipal Retirement System.
The Urban Affairs and Housing Committee reviews measures related to housing and community revitalization, including vacant properties and blight, public housing, land banks and planned communities. The panel also oversees the operations of the Pennsylvania Housing Finance Agency.
"The committee level is where public hearings are held to explore issues in depth, with input from citizens outside of the Capitol," Coleman said. "It's also where good bills can be improved and where taxpayers can be protected from costly measures. I look forward to getting to work on these committees to advance legislation benefitting taxpayers and families."
More information about Senator Coleman is available on his website, www.senatorcoleman.com.
CONTACT: Gary Day